On a picture-perfect day in Houston, almost 70 volunteers drove from all over southeast Texas with a simple mission on in mind — to beautify Camp Hope. Volunteers like Lance Cone said they were driven to participate in the event out of a sense of deep gratitude toward our nation's heroes. They wanted to honor the veterans who call the campus home and who are receiving life-saving services.
Volunteers replaced shelving for food storage, created outdoor recreational activities and even painted an homage to Camp Hope on the street. They also cleaned up the outdoor kitchen and wrote letters to veterans.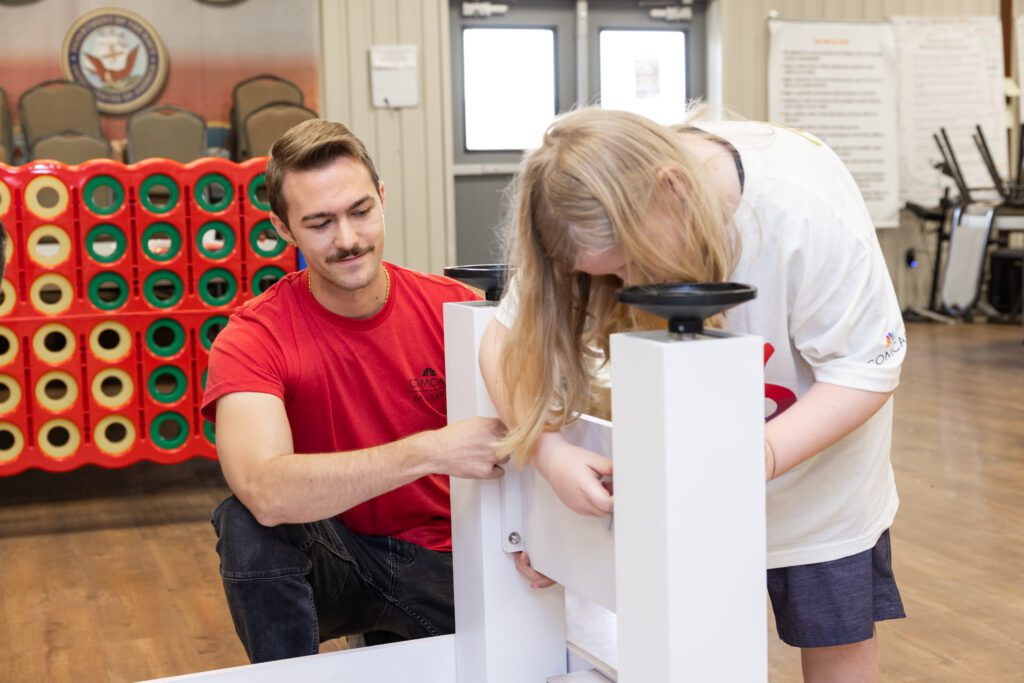 Volunteer Lance Cone helped to assemble a foosball table inside Camp Hope
Cone currently serves in the Air Force Reserves. He's been serving his country for the last 8 years in that capacity. Cone is also a leader at a Xfinity store and a member of the Comcast Texas Region's Veterans Network. He said he wouldn't have missed the volunteer opportunity for anything.
"It means a lot to be able to give back to my predecessors. People who have served before me," Cone said. "The people at Camp Hope are mostly combat veterans who have gone through a lot, seen a lot. When they reintegrated into society, they weren't able to get back on their feet successfully. A lot of veterans don't realize the impact that they make and that they actually matter. Having companies like Comcast come out and show them that they care … means a lot for veterans."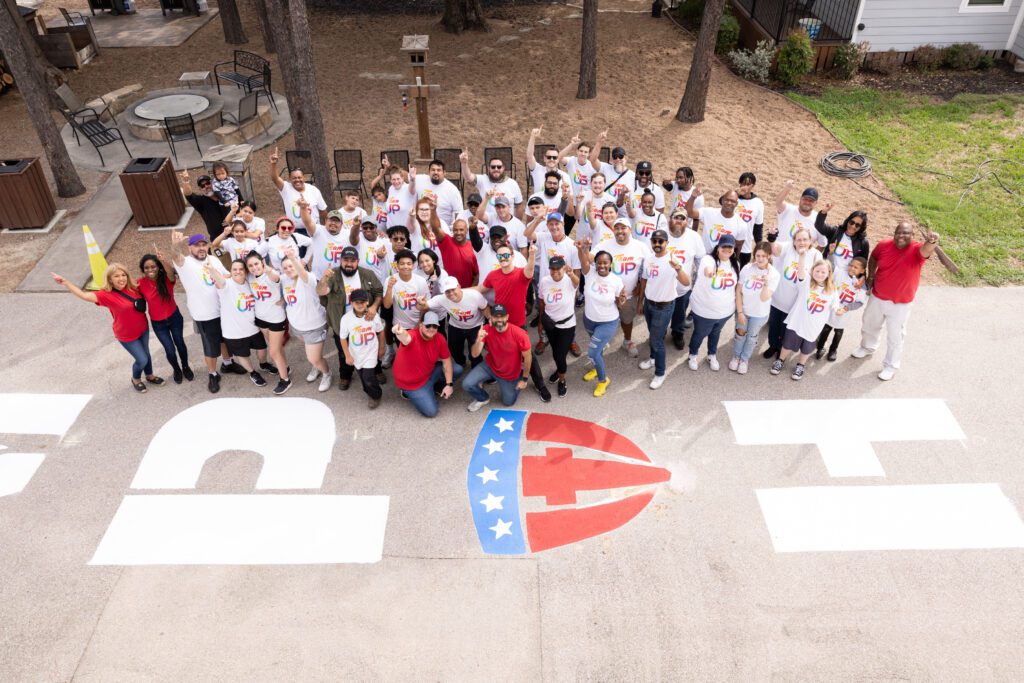 Camp Hope is unlike any other place in the United States. The facility offers housing for veterans looking to succeed in civilian life. The program gives participating vets a path forward, a way to see a positive and purposeful future.
The volunteers who helped to beautify the property are part of Comcast's Team UP program – an always-on, 365-days-a-year effort to provide employees opportunities to get more involved in their communities.
David Maulsby is the executive director for the PTSD Foundation of America which created Camp Hope. He said support from Team UP volunteers goes a long way in helping his organization in its quest to change the trajectory of veterans' lives.
"We love our friends at Comcast. They've been great supporters of us at Camp Hope since we opened in 2012. Many, many times the volunteers have come out and done a lot of projects. They've beautified the campus and made it as a comfortable as possible for the residents. Right now, there are about 120 veterans living with us," Maulsby said. "They were so impressed with what y'all did this past weekend. We cannot thank Comcast enough for partnering with us."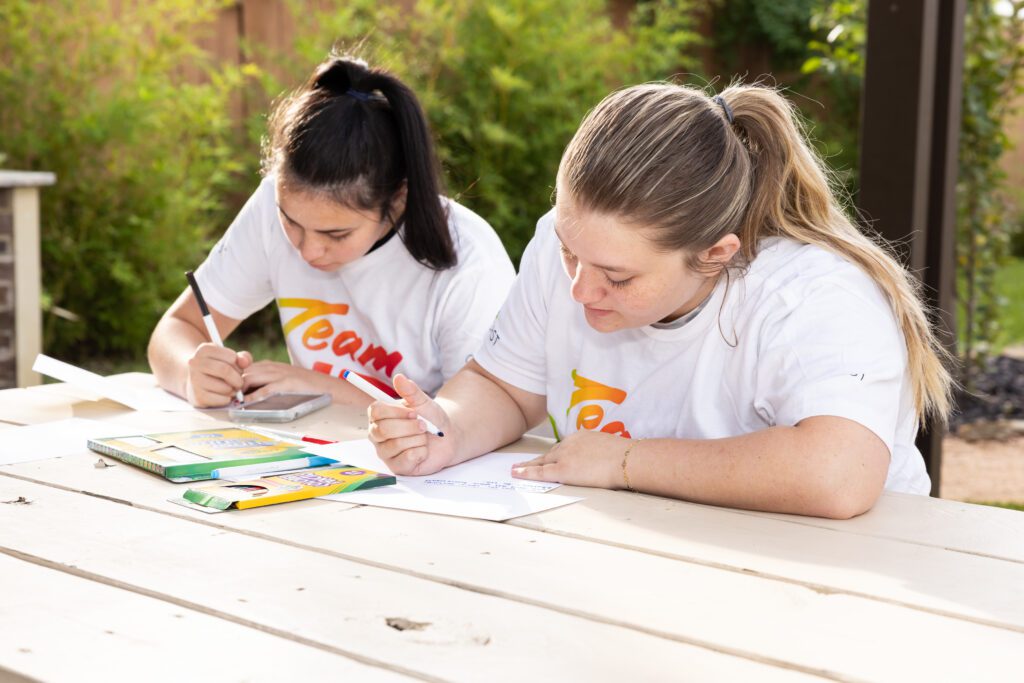 Team UP volunteers like Sabrina Rodriguez said she left the volunteer opportunity with a deep appreciation for veterans. Rodriguez is a community account representative for Xfinity. She said her grandfather served in the Vietnam War and she never really understood his struggles until speaking with other veterans.
"When I was a little girl, my grandfather went through a lot of things. At the time, there wasn't the support like Camp Hope … so just being about to hear the stories and meet the veterans who were at the site was everything for me," Rodriguez said. "For me, it's impacted my life. To be able to give hands-on support, outside of work, that is going to make someone else's life better … is everything. That's what it meant."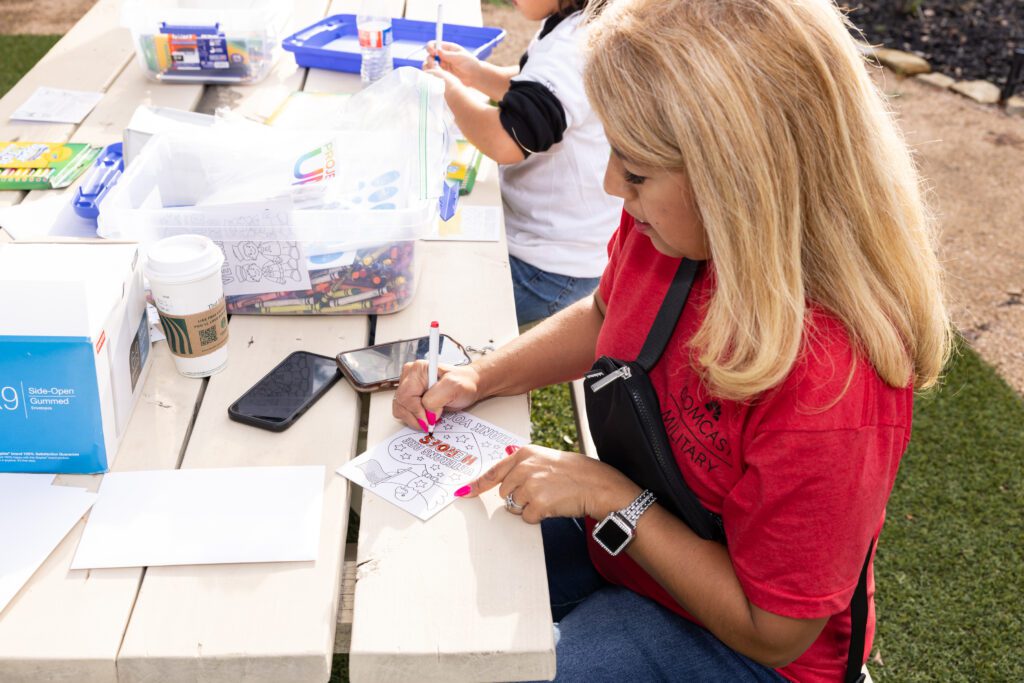 Volunteer Sabrina Rodriguez wrote cards to veterans
Volunteerism is the heartbeat of Comcast's culture. Learn more about recent Team UP events in Texas – Horses Heal at Texas Nonprofit, Giving Back Becomes Full-Circle Moment for Houston Volunteers, and The Digital Tool That's Empowering Veterans With Opportunity.