A round of applause, loud cheers and contagious optimism recently filled the front lobby of Combined Arms' headquarters in east Houston. The non-profit operates a national campaign to connect transitioning service members and veterans with every possible resource available.
The group's mission is straightforward, empower veterans to thrive in the civilian world by giving them access to opportunity. Their secret weapon is software and technology powered by the Internet. That's precisely why supporters, veterans and volunteers gathered in celebration last Saturday.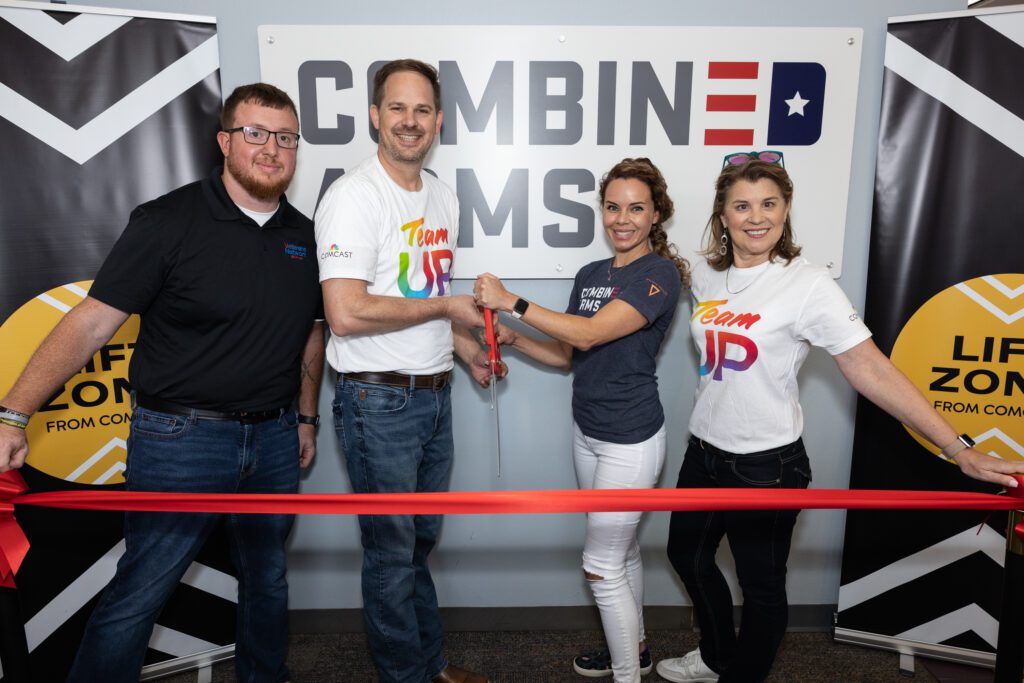 Comcast and Combined Arms leaders celebrated the Lift Zone launch with a ribbon-cutting.
They along with Comcast employees delighted in the launch of a WiFi-connected Lift Zone at the veteran serving organization. The Comcast Lift Zone, funded by the media and technology company, will allow veterans free access to high-speed, reliable WiFi. The move is monumental given the digital divide within the military community.
According to a 2019 FCC report, around 15% of veteran households do not have an Internet connection. Such access allows veterans to apply for earned benefits, search for jobs and research other opportunities. The same report found the digital divide is larger for veterans in rural areas.
"Nearly three million veterans living in rural and highly rural areas are enrolled in the VA's health care system, 27% of whom do not have Internet access at home," said the report. "Rural veterans are substantially more likely to enroll in the VA's health care system than urban veterans, and rural veterans are on average older than the general population, more often face health problems, and live further from physical medical facilities. Rural veterans continuously struggle with access to medical care, demonstrating the importance telehealth could have on rural veterans."
The study found digital skills and internet access will become even more important in the years to come.
"A broadband connection is also crucial for veterans to access military benefits in addition to other services. For example, the VA's military benefits, such as disability compensation, medical care, education, and home loans, among others, are accessible in one comprehensive place online," read the report. "In the future, the VA may require all claims to be paperless, transforming the way veterans submit their military benefit claims."
Those findings show Combined Arms' efforts are needed now more than ever. Combined Arms' Executive Director, Mia Garcia, said the new Lift Zone will play an important role by helping vets get online and drive traffic to their campus at 2929 McKinney Street, Houston TX 77003.
In addition to the Lift Zone launch, more than 50 volunteers visited Combined Arms' location to show their love for our nation's veterans during a heartfelt activity. Comcast teammates alongside their family members wrote appreciation letters and boxed hygiene kits inside the non-profit's gym.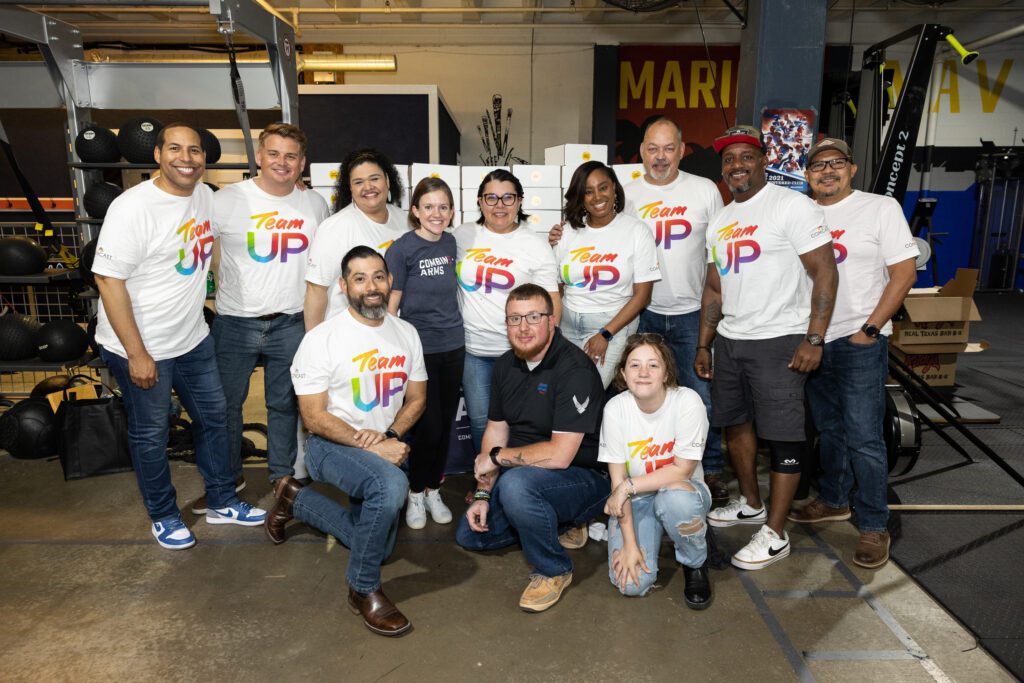 Comcast volunteers with Team UP boxed more than 200 hygiene kits for veterans at Combined Arms in Houston.
Comcast Texas' Vice President of Sales and Marketing, Demian Voiles, said the investment in Lift Zones represents the company's community to expanding Internet access for those who need it most. Voiles serves as the region's executive sponsor for Comcast's Veterans Network employee resource group.
Do you 
 this? SHARE on social.