A first-of-its-kind computer class recently took place inside a recreation room at an apartment complex in Pasadena, Texas. A small group of residents enthusiastically gathered at the Linda Vista Apartments to learn digital skills during a hands-on training from trusted experts. Their motivation for attending tied back to a common theme. They all said they want to be more tech savvy as way to enrich their daily lives.
Take 67-year-old Maria Rocha for example. Rocha said she stopped by the training to learn basic computer skills as a way to stay connected with her grandchildren. Rocha listened intently as her instructor walked her through the class step-by-step.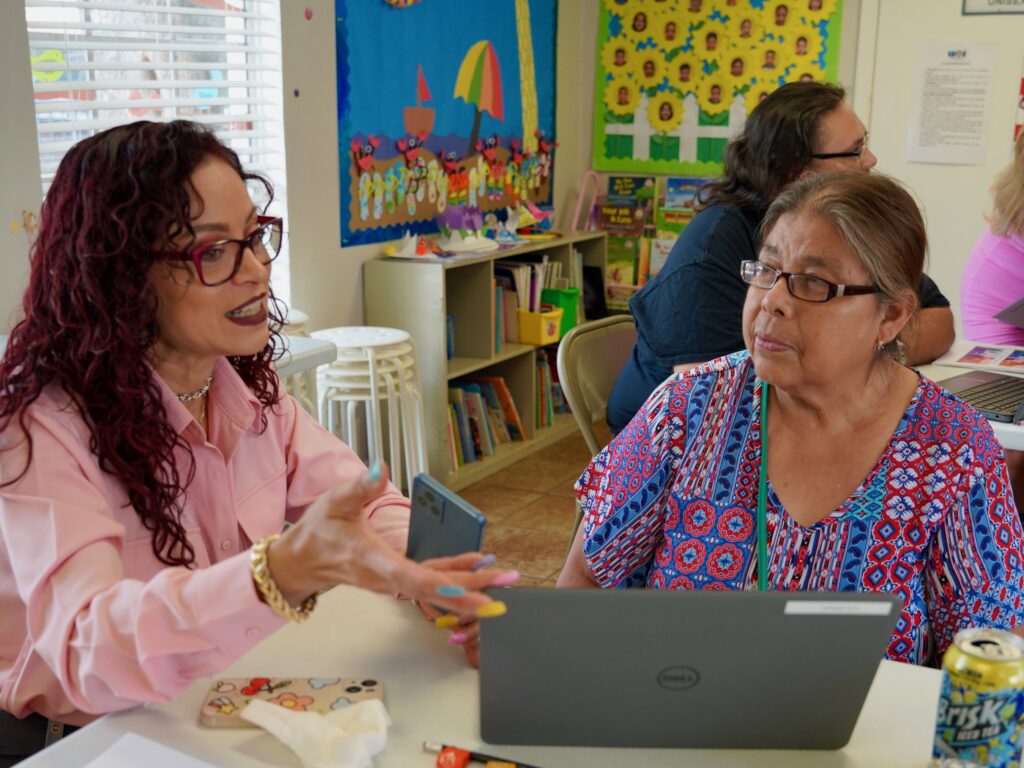 Comcast employee Ingebord Verde sat with resident Maria Rocha. Through one-on-one training, Verde helped Rocha learn how to turn on a computer, send email and access the Internet.
"In today's day and age, it's more important than ever to learn about computers," Rocha said in Spanish. "Everything is through the Internet. You get information about everything. I don't know anything about computers. I don't know any basic skills."
The class is part of a collaboration between Comcast Texas, Goodwill Houston and Veritas Equity Management. The trio launched a pilot program this summer to offer hands-on computer training at seven classes across six properties in southeast Texas. This innovative approach puts experts literally at the front doors of those who need the training the most, offering them a convenient and easy way to learn digital skills.
Nimcy Gonzalez with Veritas explained the need for digital skills training is great. She said many residents struggle with paying bills online, helping their children do homework or access telemedicine. Gonzalez said she is grateful to Comcast for stepping up and offering the classes free of charge. Trained Comcast employees serve as the instructors and work directly with residents to help them succeed.
"The people are so happy," Gonzalez said "They respond so fast when the flyers go up. The training is here to help the families and the kids."
Alicia Nightengale and Jeremy Matthews know enough about to computers to log online. They worry though for their 14-year-old daughter and want to do their best to protect her in cyberspace. The couple attended the training to ask questions about cybersecurity.
"They're (kids) a lot smarter than we are. They're so much smarter than we are," the mother and father joked. "Even though I have her stuff as locked down as I possibly can, she's still getting a lot of inappropriate content."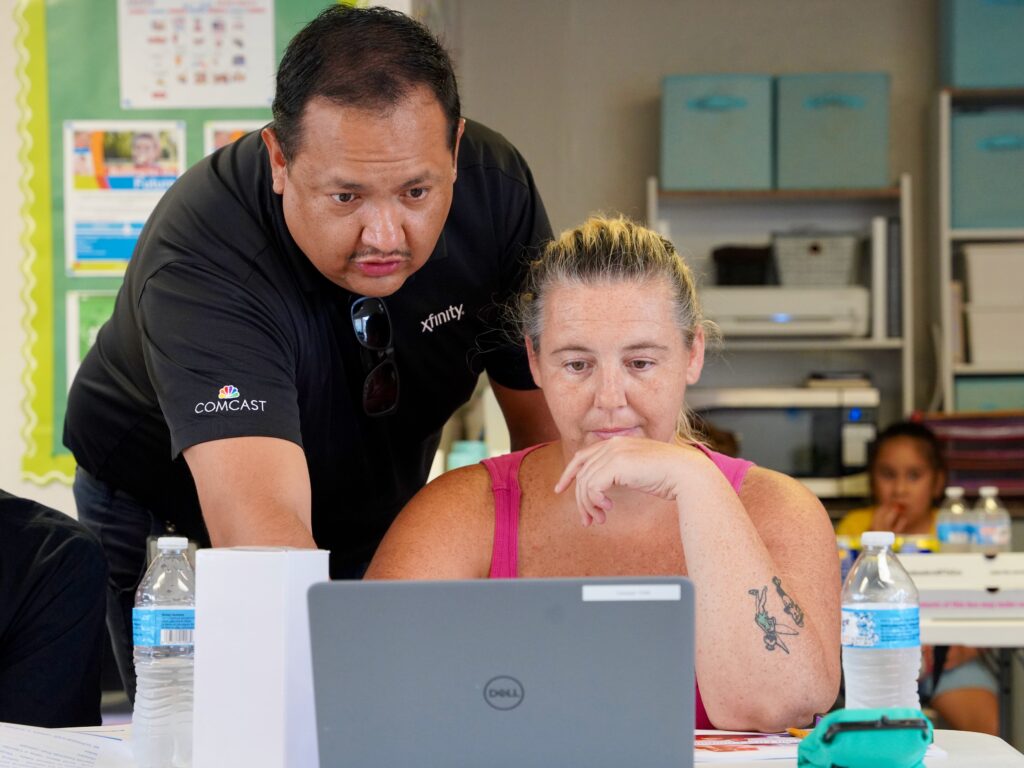 Comcast employee Ricardo Rebisso helped resident Alicia Nightengale with an one-on-one lesson in computer safety.
Ricardo Rebisso said he's found joy in teaching the classes. He explained it's been a great way to actually learn the community's needs.
"We're really excited about doing these classes. It's an amazing feeling," Rebisso said with a smile. "We think this is just learning about how to turn on a computer, use a keyboard or use a mouse pad. It's very simple but for some people, it brings them security because they are afraid to do the first steps. I think once they do the first steps it's easier for them."
In addition to the classes, Rebisso said he and the team work to educate the community about low-cost connectivity options like the Affordable Connectivity Program and Internet Essentials. For some eligible families, they can pay nothing out of pocket for high-speed broadband and receive discounts on devices like laptop computers.
The pilot program recently concluded its last class. Comcast is actively looking at ways to expand the program at more properties.
Do you 
 this? SHARE on social.