Ion Welcomes Per Scholas As Part of Community Investment to Build Inclusive Technology Workforce; Now Accepting Applications
National tech training nonprofit Per Scholas recently announced its expansion to Houston, joining Ion District, Houston's 16-acre innovation district developed by Rice University. Through an innovative relationship with Ion, Per Scholas Houston will offer its tuition-free technology skills training from its newest campus located at 4201 Main Street. In addition to Ion selecting and investing in Per Scholas as the District's workforce development partner, Per Scholas Houston has received generous support from BlackRock and Comcast NBCUniversal. 
"We are excited for Per Scholas to join the Ion as a workforce development partner, as well as recognize a CBA milestone by investing in developing a tech workforce of Houstonians," said Jan Odegard, Executive Director of the Ion. "This investment will expand non-traditional learning opportunities for local Houstonians looking to develop new skills in our dynamic economy."
Training by Per Scholas Houston will get underway in October, beginning with its best-in-class IT Support course. Applications are now open, and interested individuals can learn more and apply here. Learners will have the opportunity to earn the Google IT Support Professional Certificate and the CompTIA A+ certification, equipping aspiring technologists with the knowledge and skills to fill a wide range of entry-level tech careers. 
Per Scholas unlocks potential for individuals, communities, and companies by offering rigorous, 12- to 15-week tech skills training and connecting Per Scholas graduates to high growth careers in technology. Per Scholas Houston marks the nonprofit's second campus in Texas, joining Per Scholas Dallas, which has been training technologists in a variety of tech skills since 2014.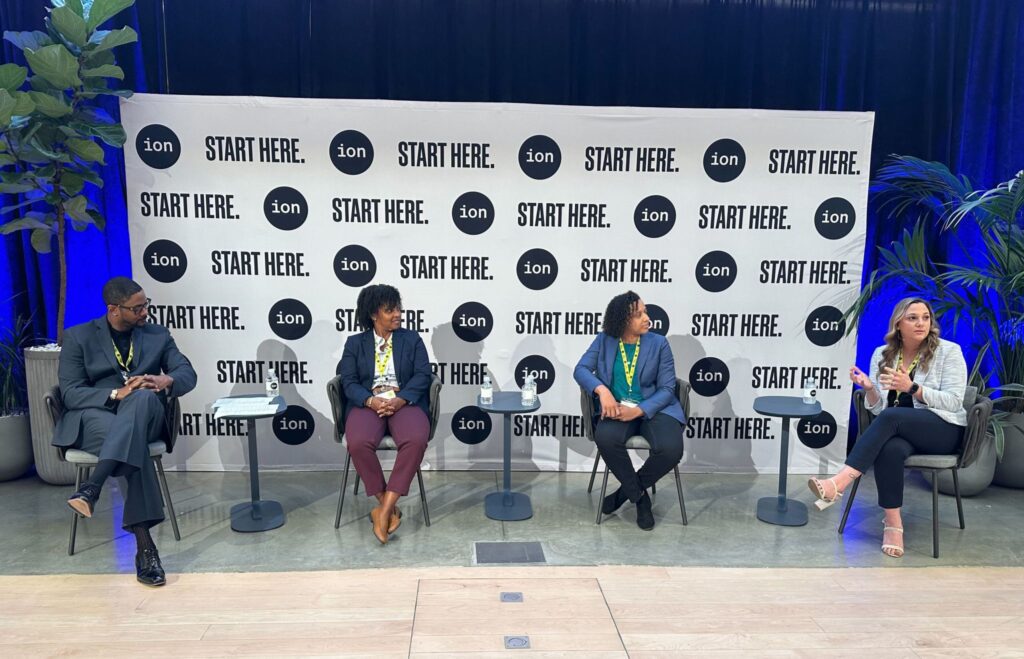 VP of Human Resources for Comcast's Texas Region, Lavone Jones, joined a workforce development conversation at the Ion.
"The BlackRock Foundation's longstanding partnership with Per Scholas is a natural extension of our mission to create more paths to financial security for more people," said Claire Chamberlain, Chief Investment Officer and Managing Director, Corporate Sustainability and Social Impact at BlackRock. "Through skill-building and mastery, the program expands access to careers in technology and is critical for unlocking the potential of a new generation of technical leaders. We are so proud to be a part of bringing Per Scholas to Houston."
"A future of unlimited possibilities starts by providing ambitious, driven, and talented individuals with opportunities. That's precisely why our partnership with Per Scholas is a perfect fit," said Misha McClure, Comcast Texas' Director of External Affairs. "Our investment will help build a diverse and thriving workforce here in Greater Houston by providing skills training for highly sought tech careers. We're grateful to Per Scholars for its ongoing work to educate and connect our future business leaders with leading businesses. We look forward to what we can achieve together."
Aligned with its commitment to diversity, equity, inclusion, and belonging, 85 percent of Per Scholas learners are people of color, more than 40 percent identify as women, and more than half have a high school diploma as their highest education credential. Per Scholas graduates are hired into tech roles by more than 850 employer partners nationwide, ranging from Fortune 500 companies to innovative startups. The Per Scholas model is proven and evidence-based. Per Scholas trained technologists go on to earn three times their pre-training wage in their first job following graduation. Plus, every dollar invested in Per Scholas results in an $8 net economic return. 
"Per Scholas commends the vision and commitment of the City of Houston, Ion, Rice University, and so many others, to catalyze change, grow ideas and innovation, and drive impact. We are thrilled that Per Scholas Houston is now part of the effort," said Plinio Ayala, President and CEO, Per Scholas. "With tremendous investment from Ion, BlackRock, Comcast, our proven skills training will develop technologists to power Houston's workforce today – and tomorrow – creating a more inclusive and equitable economy. We can't wait to get started."
To learn more about the Ion, please visit iondistrict.com. To learn more about Per Scholas Houston, click here, and follow Per Scholas Houston on LinkedIn and Facebook.
Do you 
 this? SHARE on social.