Keeping people connected at live sporting events takes grit, ingenuity and a little bit of sweat. As thousands make their way from across the world to southeast Texas for the women's Chevron Championship, guests will be able to seamlessly stay online on and around the golf course thanks to eight female Comcast technicians. The all-star group teamed up to custom-build the physical infrastructure needed to power the Xfinity network at The Club at Carlton Woods in The Woodlands for the nationally televised championship event.
The resilient and robust network will bring high-speed Internet, video services and WiFi to make the tournament possible. It's been a labor of love for Terri Alexander, Lorna Fenelus, Ryan Hawkins, Rachel Landry, Keiara Rocquemore, Rebecca Salinas, Shonique Shelby and Natalie Spellman. They installed almost 4,500 feet of cable to bring connectivity to every corner of the golf course.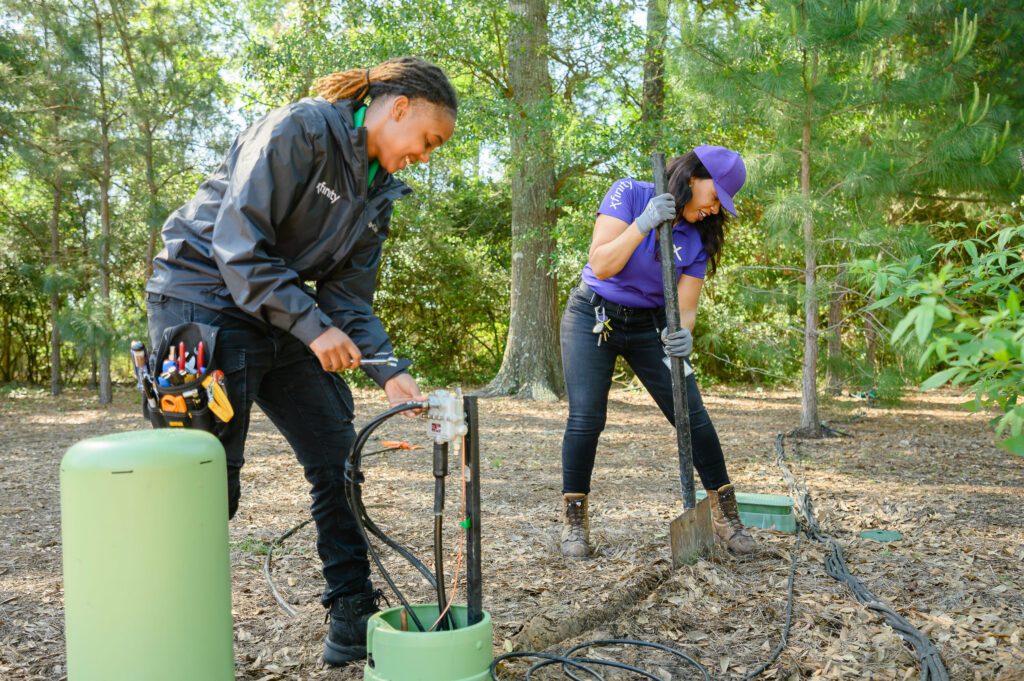 A group of all-female technicians installed the physical network needed to power connectivity for the championship golf tournament.
The women realize their collaboration story stands out as special and unique in a traditionally male-dominated field. Rachel Landry is a field operations supervisor for Comcast Texas. She said there's a small percentage of women technicians in the industry — making this installation inspirational and one to remember.
"This is the first time that we've gotten together," Landry said. "The golf tournament needs Internet and in some cases video services. We are providing the full experience. We've got our ladies out there that ran cable into all of these buildings, structures and tents. They're setting up our commercial business Internet and video services for these customers. Our ladies will be on site to offer real-time support."
Terri Alexander said it's not often she sees another female technician. She said to be able to play a part – in powering connectivity at an all-female sporting event – means everything.
"I was in awe when I saw the lady technician. I said, 'Wait a minute. There's one of me out there.' It feels good to see other ladies in the field," Alexander said. "It feels good to know we can do the same thing the men can do. It's really a great feeling that we, as ladies, can get together and get the job done."
Shonique Shelby said the partnership proves female representation matters. It can help send a message and show others what's possible.
"It's important because it gives someone else the courage to pursue something they have never imagined for themselves," Shelby said. "When we get together to work together, it's very empowering. We've got this. We're actually out here doing this. It's a good high-five to each other. It pushes us and motivates us. Not only can the fellas do it but we can do it too."
The Chevron Championship is part of the Ladies Professional Golf Association. The tournament runs from April 19th to the 23rd.
Do you 
 this? SHARE on social.