GONZO247's newest art commission "Make your Wake" is on full display in Houston's Midtown neighborhood. Bright colors now adorn the side of Career and Recovery Resources, transforming the southwest corner of the building into a work of art. Inside the non-profit, they work everyday to transform lives by helping people identify and overcome their barriers. Take a look.
"The mural that I designed is the idea that every day you have the opportunity to make your own wake," GONZO247 said. "Imagine you're on a ship and you're going through the ocean. The ocean can be turbulent, but you have to keep going towards your destination. As you go, you're making these wakes in the water. With all this positive energy, those wakes are eventually going to affect other people."
Members of TEAM Up – Comcast Texas' year-round volunteer program – along with other community volunteers helped GONZO247 paint the piece. The work spanned a few weeks. The mural is located at the corner of McGowen and San Jacinto Streets.
"Someone is going to get inspired by what you're doing and say, 'Hey if they can make something with themselves, I can do the same,'" GONZO247 said. "The edge of the building is kind of the edge of the ship. No matter what happens today we have a fresh restart every day. That's pretty much the Houston spirit. Anything is possible."
Andre Cormier is one of more than a hundred Team UP volunteers who helped bring the mural to life. Cormier works as Director of Project Management for Comcast Texas. He loved the chance to help paint alongside his colleagues.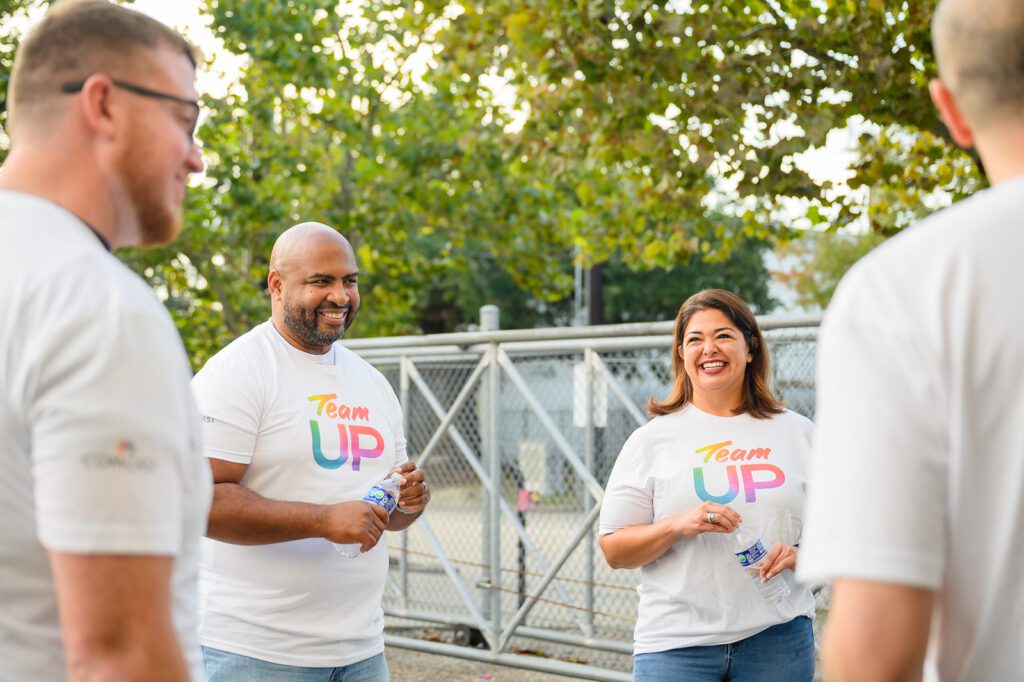 Comcast Texas volunteers including Andre Cormier gather to help GONZO247 paint the mural.
"Murals like this are fantastic because they represent hope and opportunity," Cormier said. "I think the mural is going to do a number of things including beautifying the area and provide inspiration for some that may be in need of something to uplift their spirits."
Comcast Texas' partnership with Career and Recovery Resources made the project possible.
"It's always great when you have a company like Comcast that is willing to invest in the community financially but also invest their time. It really transcends then because all of the people who volunteer they become invested in the project," GONZO247 said "It's not just like, 'Oh that's cool it happened. This artist did it. It's more like no we did it. We all came together.'"
Do you 
 this? SHARE on social.