A new pilot program will soon send trusted tech experts to four of Houston's historically under-resourced neighborhoods – Acres Homes, Kashmere Gardens, Magnolia Park-Manchester and Sunnyside. The experts, known as digital navigators, will provide one-on-one support to hundreds of Houstonians who want to get online and make the most of it. Their mission is to empower people by teaching them digital skills and show them how Internet access can open up opportunities for their whole family. The digital navigators will offer a "back to basics" technology-based curriculum and teach participants how to use computer applications, search for jobs online and operate word-processing software. Take a look. 👇
Any Houstonian can now access a digital navigator – free of charge. They can call SERJobs at 713-773-6000 to schedule an appointment or email digitalnavigator@serhouston.org.
The pilot program is a partnership between Comcast Texas, the City of Houston Mayor's Office of Complete Communities and SERJobs. The $150,000 pilot program started on November 18th and will last for 18 months – spanning into 2024.
Comcast Texas' External Affairs Director Misha McClure and City of Houston Director of Complete Communities Shannon Buggs recently joined KPRC's Khambrel Marshall on Houston Newsmakers to talk about the program and how it can help shrink the digital divide.
"The work digital navigators will do in our Complete Communities may seem simple, but it's very necessary," Buggs said. "We help Houstonians gain financial empowerment through free professional financial counseling. In today's digital economy, if you don't have the right digital skills, you start at a disadvantage. This program will change that."
Houston's FOX-26 joined Comcast for the launch announcement where digital journalist Ahmed Sharma witnessed a live learning session. He spoke with Acres Homes resident Bernadette Wingate. The 74-year-old woman told Sharma about why she wanted to learn more about technology.
"Change is difficult. It is but you need to change that mindset and have an open mind," Sharma wrote in the article. "I want to know, I want to seek and find out it all. I don't want to just stay in the old way where I write down everything."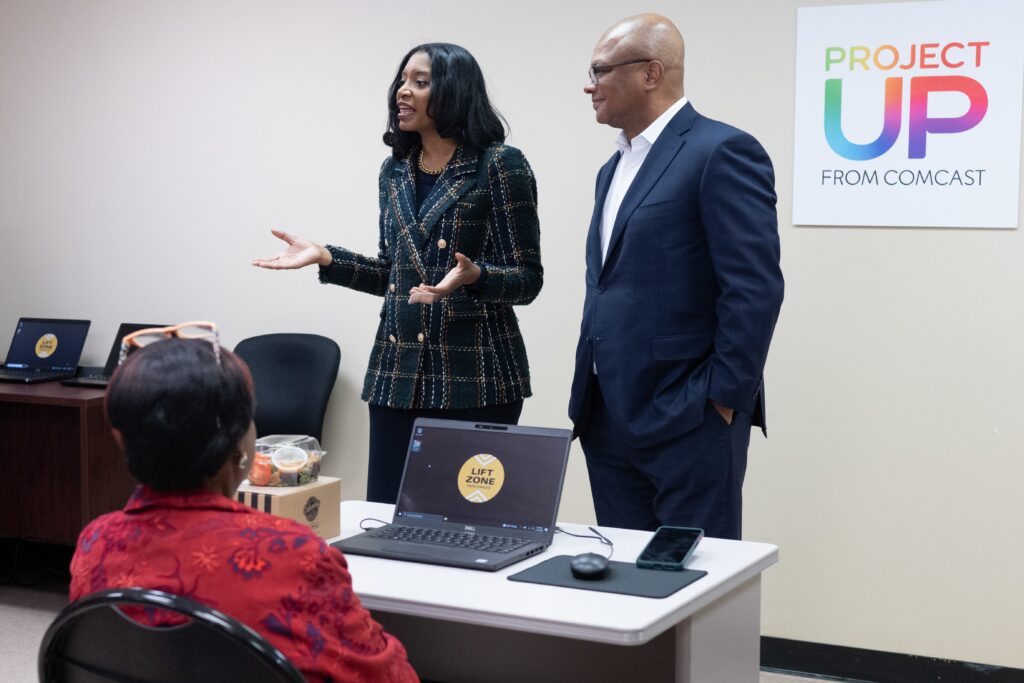 Complete Communities Director Shannon Buggs joined Comcast Executive VP of Digital Equity and Executive VP of Public Policy Broderick Johnson at a learning session on Friday, November 18th in Houston's Acres Homes neighborhood.
According to a recent Boston Consulting Group study supported by Comcast, digital navigators hold the key to reduce digital and socioeconomic inequities. The study revealed those who received hands-on help were more likely to use the Internet to improve their lives. Study highlights include:
• 1 in 3 reported obtaining new employment with a higher income.
• More than 65% now have Internet access or a connected device at home
• Almost half now have better healthcare
• 40% received support with basic needs like food, rent and housing
"Digital navigators have incredible potential to help people get connected and understand that there is a world of unlimited possibilities on the Internet," Johnson said. "In supporting digital navigator programs, we are working with trusted partners to close the digital divide here in Houston."

Axios featured the Boston Consulting Group study in an article detailing the pilot program's launch in Houston.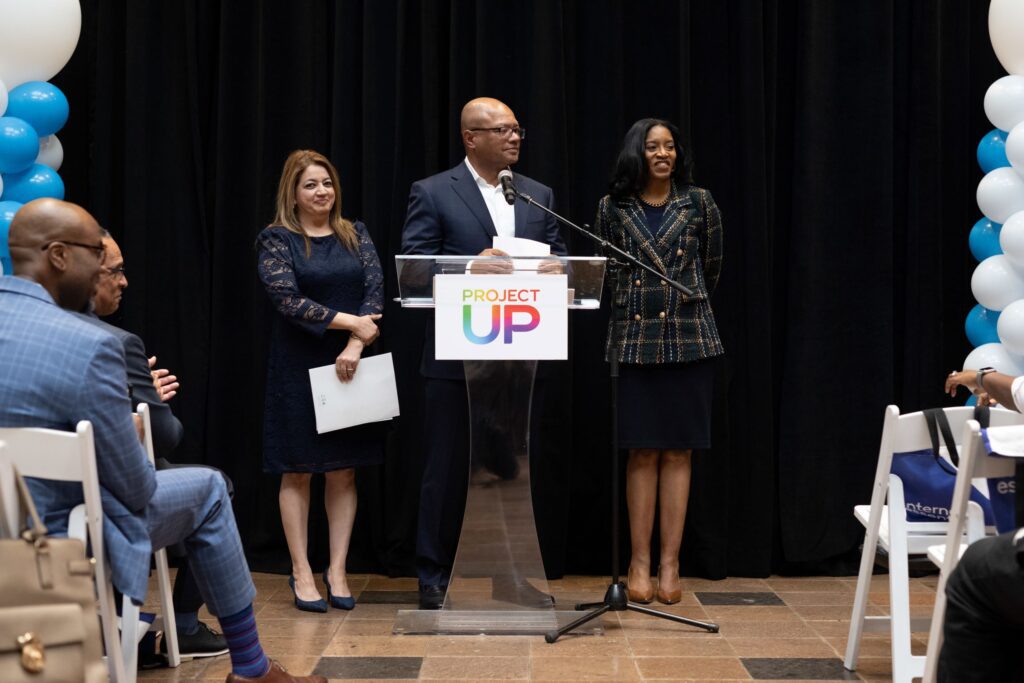 SERJobs CEO Sheroo Mukhtiar joined Buggs and Johnson at launch announcement on Friday, November 18th in Houston's Acres Homes neighborhood.
"This pilot program hits at the heart of our organization's mission to empower individuals to transform their lives through education, training, employment and financial empowerment," Mukhtiar said. "The digital world revolutionized how people obtain employment. Applicants must feel comfortable and confident utilizing digital skills in their job hunt and as they navigate through a very competitive workforce. We know this is step forward in helping Houstonians be successful citizens."
To support SERJobs' efforts, Comcast gifted the non-profit 50 laptops to support the digital navigators program. The company also surprised Carver High School students with 50 additional laptops – so they can continue their studies outside the classroom.
Zyla is a freshman at Carver. She said having a new laptop at home year-round will help especially during summer months when school laptops must be returned.

"I've worked really hard to be in advanced classes so I always have a lot of extra work that I must do at home," Zyla said. "Without having access to the internet it's really hard to stay ahead and reach my goals."
Do you 
 this? SHARE on social.