Hair can define your look and bolster your self-confidence. A fresh cut or good blowout can make you feel like a million bucks. Gaynell Curley understands the power of hair, which is precisely why she spends a lot of time perfecting her craft inside Valentino Virgin Hair Salon Bar. The warm and welcoming beauty shop is this month's feature story in our Keep Rising Series.
Curley grew up in New Orleans and fondly remembers being the neighborhood kid who loved styling her friend's hair. She says those childhood memories helped reveal her passion and eventually lead her to open a small business in Greater Houston.
"When I was a child, I always loved playing in hair. I realized it may be more than a hobby," Curley said. "As I got older, a grandmother fell ill with cancer. She would get wigs. I thought they were cute. My mom would always keep her hair just laid with the bundles. I soon realized that it was my niche. It was a God-given talent for me."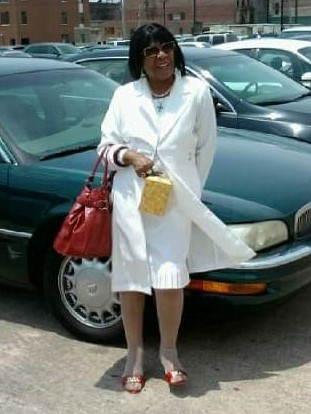 Gaynell Curley's Grandmother, Willie Mae Ramsey, pictured smiling in New Orleans, Louisiana.
Curley said her Grandmother Willie Mae Ramsey's multiple battles with cancer drove her desire to help people in similar situations. Curley explained there's a need for affordable wigs for individuals suffering from hair loss caused by alopecia, illnesses or natural reasons.
"She did not let cancer take control of her," Curley said. "No matter how sick she would fall from the cancer, she would always survive it. She would not let it beat her. She would make sure she lived her days to the fullest."
Inside Curley's North Harris County salon, she showed us how she sews together individually designed wigs. She welcomes everyone and anyone to her beauty shop, looking for a life-changing transformation.
"I'm more than just a stylist," Curley said. "I am more than a person you just purchase your wig from. I have had times where I have had to comfort my clients, wipe their tears and speak life into them. Let them know that cancer is not a death sentence. It's just a trial and tribulation that God has put you through and you will survive."
Valentino Virgin Hair Salon Bar is a Comcast Business customer and one of nearly 800 Comcast RISE recipients in Texas. Curley said Comcast's support for her salon, in the form of a grant, made a huge difference.
"I would still be looking for funding," Curley said. "Comcast has helped me tremendously. The Comcast RISE grant helped me pay for inventory, marketing and the rental fee at my salon. The grant came right on time!"
Comcast RISE is a free business support program which provides grants along with marketing services and technology makeovers to eligible small business owners. Applications are now being accepted for the next round of Comcast RISE marketing and tech makeovers.
"I really do encourage all small business owners to apply," Curley said. "It was not hard."
Do you 
 this? SHARE on social.