Curious young minds recently filled a fourth-floor classroom at the University of Houston-Downtown. Teenagers threw up their hands and asked question after question about the connected world. How do complex networks power the Internet?
Winston is 15 years old. She's heading into her sophomore year of high school after the summer. She was one of 180 students at Houston PREP Engineering & Career Day hosted by the University of Houston-Downtown College of Sciences & Technology. The event offered middle and high school students a chance to speak directly with industry professionals who possess an expertise in STEM (science, technology, engineering, and math) fields.
Leaders with Comcast Houston talked with the students about how the company keeps southeast Texas connected to the world. Winston sat on the edge of her seat inside the auditorium, wanting to know every detail.
"I've never known how the Internet works before. I've always wondered because it's been this magical thing! You touch a phone, you get whatever you want. I always wondered like how does it work? I know it just doesn't magically happen. It's fascinating for me," Winston said. "I never knew there was so much infrastructure within the city that was required. I read books online all the time. I know that's a lot of data. It must be stored somewhere. It was very interesting to see how it comes into the city, gets distributed, and the form it travels in."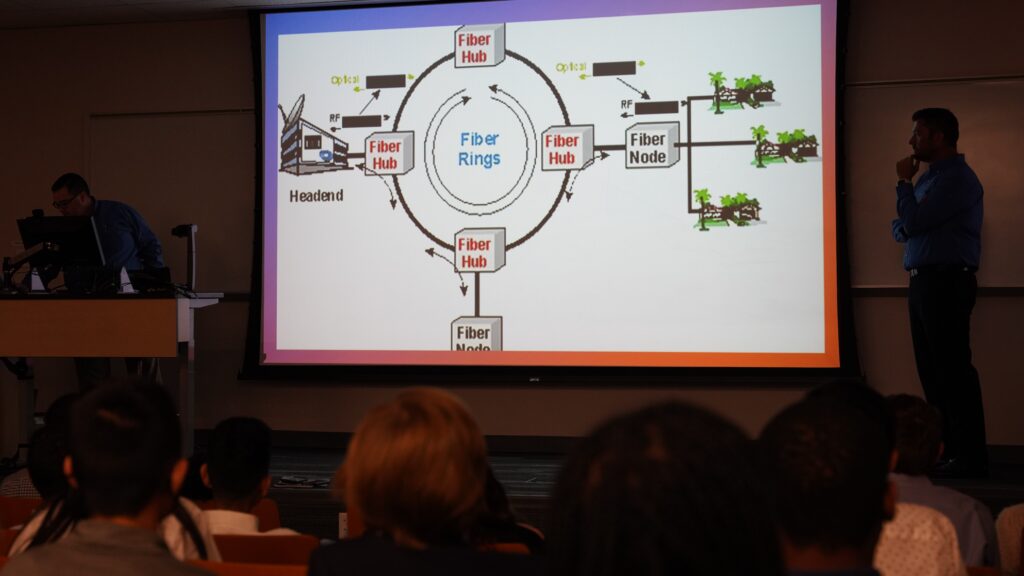 Leron Lee, Benjamin Myers, and Tony Sever helped bring Comcast's network to life for the students. The trio serves as leaders in the region's construction and technical operations. They spoke in detail about Comcast's network which powers connectivity across cities and counties, showing the students actual fiber used in the field.  
"It was definitely a lot of fun when they started asking questions and trying to understand how the technology works," Myers said. "It's refreshing to see the curiosity. It's really awesome to field these questions. That's the reason we need programs like this one. Get these kids' curiosity sparked to get into this field."
Myers said in his more than two-decades in the business, technology is constantly evolving to better meet customers' needs. He said the future for these STEM students is full of unlimited possibilities. Sever said he wanted the teenagers to leave the room inspired and challenged to continue their educational aspirations.
"Hold onto that interest and really wanting to know the why," Sever said. "I feel like as a culture we've got so accustomed to things just working. A lot of people take that for granted. They don't get into the nuts and bolts to see what makes it works. These kids are exhibiting that. I hope they hold onto that."
The Comcast team delivered much more than a lesson in fiber optics. They left the teenagers eager to learn more about the systems that power the Internet.  
"I would love to do something in technology. I've always wanted to know but I've never had a point to jump off to research it," Winston said. "I think this will help me ask questions in the future so I can fully understand it."
Do you 
 this? SHARE on social.