Online Nominations Open May 2 for the 2022 Comcast Agents of Change Awards
Comcast Houston is searching for five local humanitarians to honor through its inaugural Agents of Change Awards. Comcast will award each honoree with a $5,000 donation to a non-profit organization of their choosing. 
The five honorees must be outstanding Houston area citizens who drive transformative change through volunteerism, mentorship, advocacy, and civic engagement in one of three categories: Digital Equity, Diversity, Equity and Inclusion and Environmental Sustainability. 
Online nominations open on May 2, 2022 and should be submitted at Houston.Comcast.com. Honorees will be selected by a panel of distinguished judges: 
Khambrel Marshall, KPRC-2 
Dr. LaTonya M. Goffney, Aldine ISD 
Kevin Hattery, Boys and Girls Clubs
Claudia Aguirre, BakerRipley 
Paul Gor, Asian Chamber of Commerce  
Lauren Levicki Courville, Dress for Success Houston  
Dr. Ruth J. Simmons, Prairie View A&M University President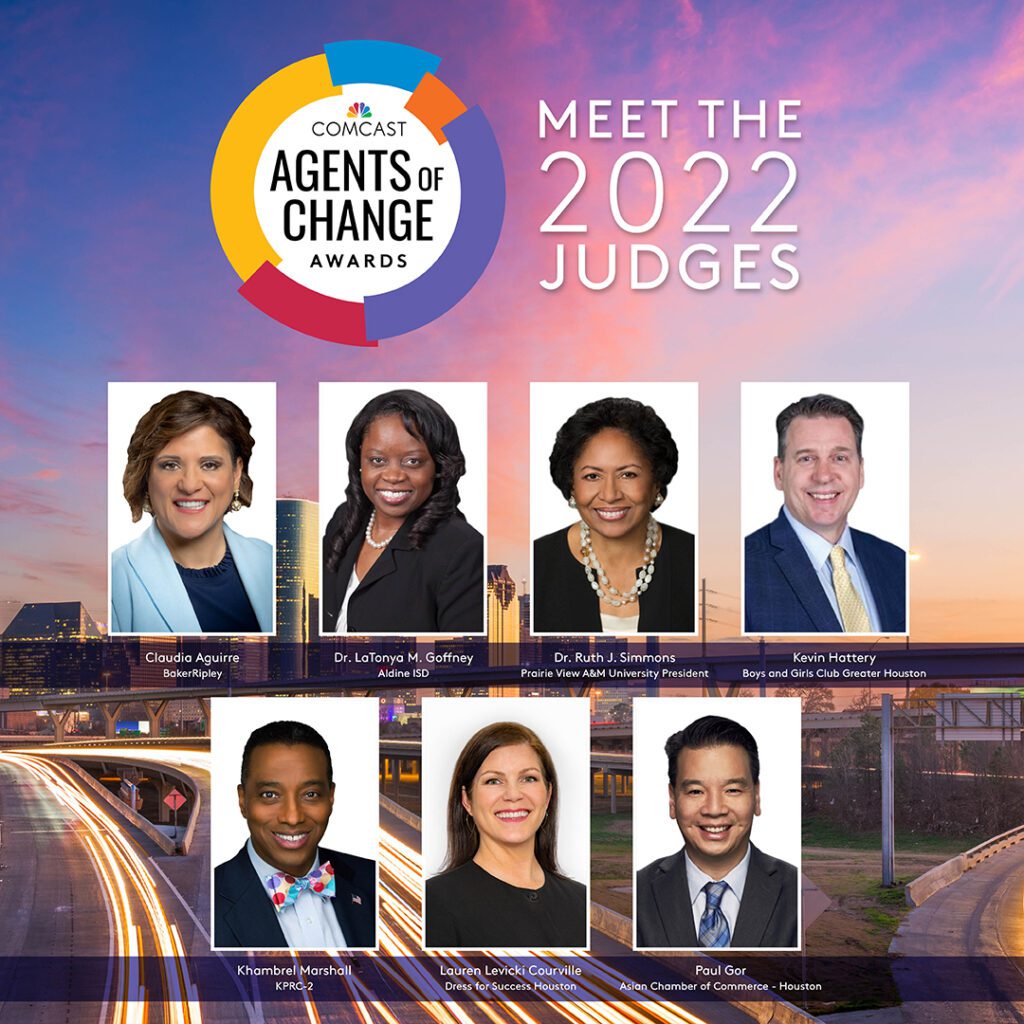 The 2022 Agents of Change honorees will be announced in September and celebrated through a traditional and social media campaign.  
"We know there are many unsung heroes among us who dedicate their time to serving others and making our community a better place to live, work and play," Ralph Martinez, Comcast Regional Senior Vice President said. "These local humanitarians deserve to be recognized, along with non-profit organizations whose missions align with Comcast's commitment to help uplift our communities. That's what Comcast's Agents of Change awards are all about." 
In 2021, Comcast pledged $1 billion over the next 10 years to help further close the digital divide across the country. In 2020, the media and tech company accelerated its longstanding commitment to Diversity, Equity & Inclusion with a $100 million commitment to help drive lasting reform and recently committed to carbon neutral global operations by 2035 in Scope 1 and 2 emissions. 
"We are looking to honor the best of the best; the change-makers of today who will brighten our tomorrow," Toni Beck, Comcast Vice President of External Affairs, said. "For more than a decade, we have honored incredible Houston area citizens and their positive impact in our communities through other various awards programs. The Agents of Change awards brings all our previous efforts under one roof and acknowledges volunteers from all segments of the population for their meaningful work." 
To further recognize honorees, Comcast will feature each individual in a video highlighting their civic service and shared through Comcast social media platforms – houston.comcast.com, Twitter (@ComcastHouston), and Facebook (@Comcast).