With hurricane season now underway, there's three things Xfinity customers in Texas should do before any storm.
ENROLL IN TEXT ALERTS | Sign in to the Xfinity app or Xfinity.com to update your contact information, including your mobile phone number, so you can receive text alerts about service interruptions. You can also text START to 266278.

DOWNLOAD THE XFINITY STREAM APP | During a storm, Xfinity video customers can stay informed by watching live local news reports on any device.

CHECK YOUR DATA PLAN | Through the Xfinity Mobile app you can adjust your data plan at any time and or upgrade your plan to turn your phone into a hotspot.
Xfinity has you covered when it comes to getting you storm ready. Take a look. 👇
The Atlantic hurricane season officially started June 1st and runs through November 30th. Forecasters with NOAA predict a "near-normal" season with a range of 12 to 17 total named storms, including 5 to 9 potential hurricanes. While it's possible Greater Houston never sees a storm this season, it's still important to prepare ahead of time.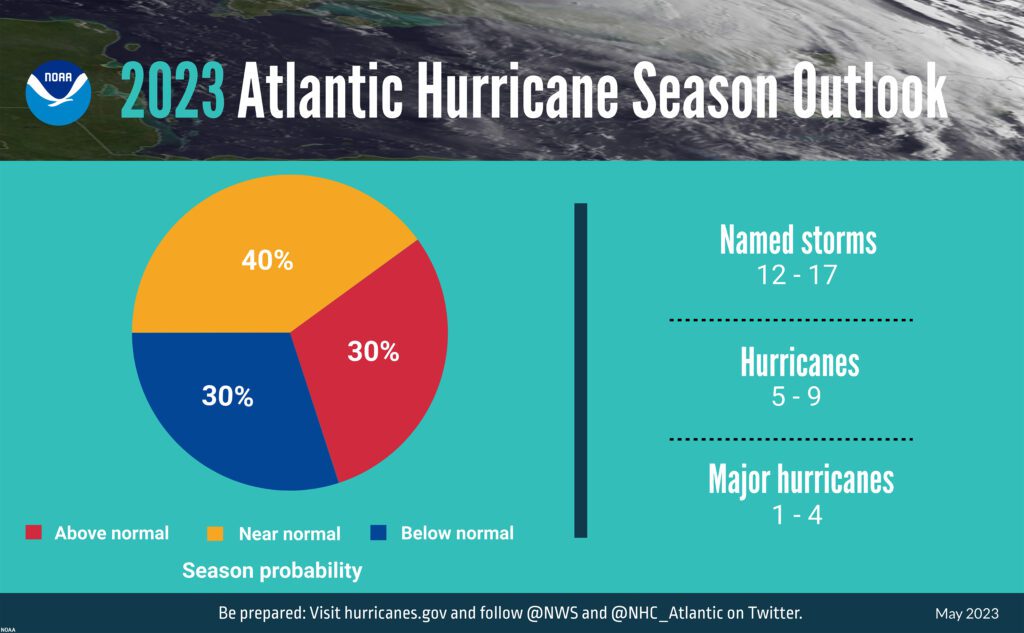 Meteorologists with the Climate Prediction Center expect 1 to 4 major hurricanes to develop this year. (Image Credit: NOAA)
It's not just tropical systems that can threaten the region. The reality is severe weather can strike anytime and may result in service interruptions. Fortunately, there are plenty of ways for Xfinity customers to stay connected, entertained and informed during a storm.
Here's a full list of Xfinty apps that are useful during storm season.

View local network outages.
Chat with Xfinity Assistant.
Check the status of a service call.

Download movies and shows to watch offline.
Watch live TV.
Get weather updates.
Adjust your data plan at any time.
Use your mobile phone as a hotspot.



Stay connected on the go with access to millions of Xfinity WiFi hotspots nationwide.


Here are a few additional tips and safety reminders.
Customers should plug TV's, modems, and cable boxes into a surge protector to protect them from damage in case of lightning or a sudden power outage.
Emergency management procedures dictate that electricity must be restored first and Comcast must receive clearance that it is safe for our crews to begin any restoration work. Should customers experience a loss of service due to a power outage, local power must first be restored before Xfinity video, phone or internet services can begin working again.
If customers have electricity but not Xfinity services, Comcast recommends that customers restart or reset devices, including wireless gateways, modems, routers, and cable boxes.
In some cases, customers may have power back but not their Xfinity services because commercial power has not been restored to our network in their area.
Customers should always stay clear of downed power and cable lines in the interest of safety.
Keep your phone batteries charged.
Keep your phone dry.
Make sure all your emergency contact numbers and emails are programmed into your phone.
Forward your home phone number to your mobile number so that all emergency calls reach you.
During the storm, text instead of calling — texts require fewer network resources.
We're committed to helping you stay connected to what matters most to you — this summer, and all year round.
Do you 
 this? SHARE on social.