Mayor Sylvester Turner's Health Equity Response (H.E.R.) Task Force has partnered with Comcast to provide Internet access to approximately 5,000 qualifying families in need. This agreement will ensure qualifying applicants can continue to stay connected to the Internet for education, work, and personal health reasons for one calendar year.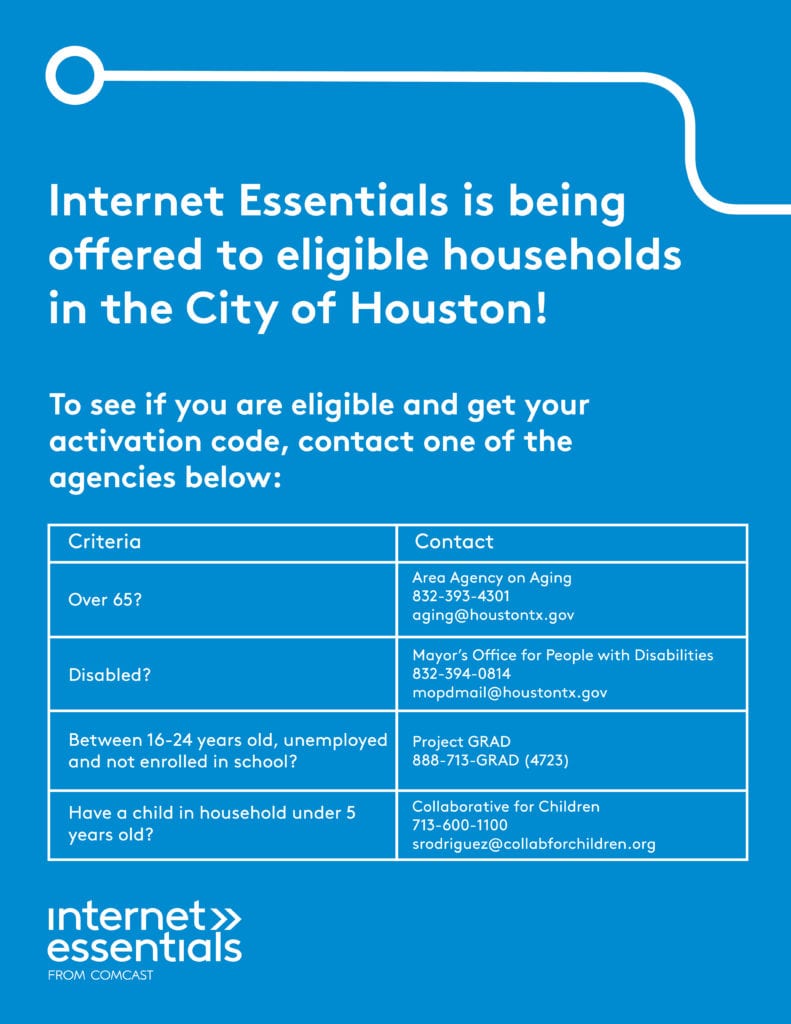 "This pandemic has highlighted the importance of quality internet service particularly for those vulnerable populations who must stay at home to stay safe," said Mayor Sylvester Turner. "This program will provide a lifeline for citizens that have struggled through the pandemic without internet access and a way to stay informed, connected and safe during these challenging times." 
To qualify, applicants must reside in the City of Houston and have a Comcast serviceable address. Applicants must also meet additional criteria. They must have a household income lower than 80 percent of the area median income, and be a member of one of the following groups:  
Person(s) over 65

 

Person(s) with disabilities

 

A household with children less than five years of age

 

Person(s) ages 16-24 who are not currently enrolled in school or participating in the workforce.

 
Digital connectivity has become a lifeline during the pandemic, but devices alone are less effective if people cannot use them to access the Internet. The H.E.R. Task Force realized critical groups were being overlooked and believe the Internet Essentials Partnership Program will accelerate access for families. 
This program is a complement to the City's Computer Access Program and part of the $400 million Cares Act funding provided to the City of Houston. 
City of Houston IEPP Partner Information 
Service is for 12 months from the date of installation. At the end of 12 months, the customer is eligible to continue service at their cost. Currently service is $9.95 per month (subject to change). Customers will be notified prior to expiration and must cancel service or will be charged after 12 months. 
Applicants have until Wednesday, December 23d to see if they qualify. Offer must be redeemed by December 27, 2020. Offer open to new Comcast customers and existing Comcast Internet Essentials customers. 
Not Available in All Areas. 
For questions, Voucher Program customers can call 1-844-963-0178.